Hagan was born in Murwillumbah, New South Wales, Australia and spent his youth in and about the beautiful Tweed Val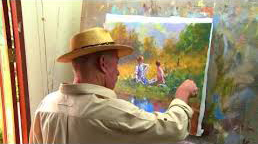 ley. He graduated from university with an Arts degree in Economics and a Diploma in Education, then taught high school. He began painting as a hobby, but soon realized he wanted a career as an artist.
Hagan's approach to painting is to translate scenes of everyday life into romantic, nostalgic and blissfully peaceful visions of the world. His style is Impressionist using a limited palette of oil to impart a sense of tranquility and play on light to make the painting come alive.