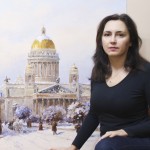 Irina's frequent travel has enabled her to become a master of her cityscapes. Her exploration of architecture during these travels has been instrumental in developing breathtaking cityscape series of Moscow, Prague, Venice, St. Petersburg and New York. For Irina Alexandrina, every city is the source of inspiration. She searches for a mood, not for a particular postcard view.
In June 2010, former Russian Primer, Dmitry Medvedev presented former Secretary of State, Condolesa Rice and George Shultz, with an original painting by Irina Alexandrina at Stanford University as a "thank you" for giving him a tour of Silicon Valley. (Pictured)
Paintings by Irina Alexandrina have been presented as gifts to several politicians of European countries.